It's hard to believe, but it is already February 2022, with Christmas, New Year and now even Australia Day celebrations in the past.
We hope you were able to enjoy a relaxing break with friends and family, that Santa was kind, that you were able to stay safe from COVID-19 (we did have it in our family, but thankfully the cases were mild) and most importantly, that you are recharged for what we hope is going to be a great year.
In this update, our first for the year, we are going to take a look at what's been happening with investment markets so far this year, what's driving the price action, and what to expect from the pink diamond market in 2022.
Let's dive right in!
What's happened to markets so far this year?
Our final note for 2021 was titled "The year everything worked". We chose the title because last year, almost every single asset class on the planet went up in price, from stocks, to real estate, to cryptocurrencies, and of course, pink diamonds.
While the returns would have pleased all investors, we did include a warning that investors should not expect them to last, with a range of risks to the markets evident.
Wind the clock forward a month and it's clear the volatility we warned about has arrived, for now at least. After all, consider the following:
The tech heavy NASDAQ index in the United States fell by 9% for the month, one of the worst monthly returns it's ever delivered in January.
The S&P 500, a broader market index, fell by 6% for the month (it was down 10% at one point). That's its biggest monthly fall since the pandemic hit, and the worst start to the year since 2009, at the height of the global financial crisis.
The ASX 200 in Australia fell by circa 7% as well, at one point falling below 7,000 points.
Cryptocurrency prices crashed, with Bitcoin falling by 20% for the month. It's down more than 40% from the highs seen in November last year.
The Australian dollar fell by more than 3% vs the USD, and is on the verge of dropping below USD 0.70.
The only bright spot has been commodity markets, which have continued to power higher, led by the price of oil, which was up by almost 20% for the month.
Overall, it's a very weak start to the year for markets, reinforcing why investors need to make sure they hold truly diversified portfolios as we move forward.
What has driven the crash?
While markets were overpriced (and indeed still are) and ripe for a correction, interest rates are the reason for the crash.
In simple terms, markets have started the year off on the back foot due to fears that central banks will be forced to significantly increase interest rates this year.
The image below shows the current market forecast for the number of interest rate hikes projected by some of the largest banks on Wall Street, with some seeing rates increasing up to seven times this year.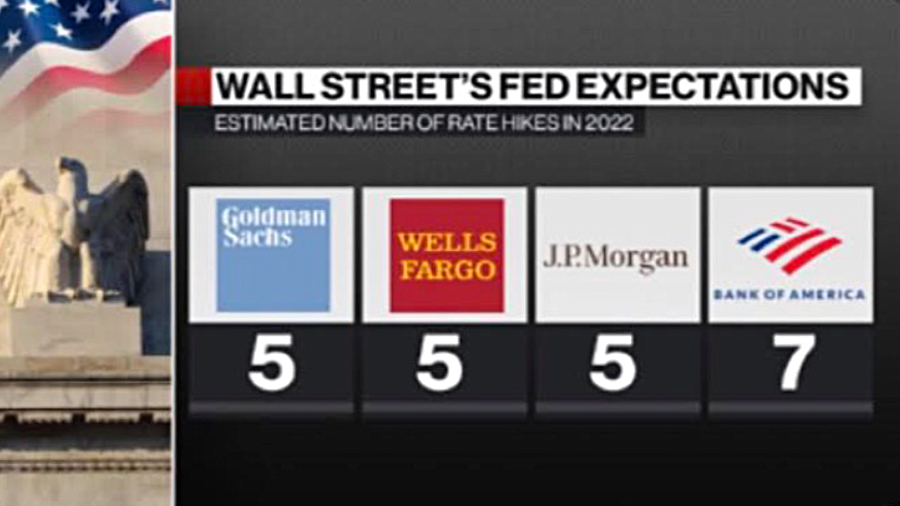 That is not a misprint.
And while market players were already expecting rates to rise when the year started, a month ago no one though the move would be this severe.
There are multiple reasons why the market has reassessed the potential speed and scale of rate hikes this year, but one of the main ones has been developments on the inflation front.
For most of last year, policymakers were convinced the spike in inflation we saw last year would be temporary. That's been blown out of the water now, with US inflation rates hitting 7% by the end of last year, with the supply chain challenges posed by COVID-19 ensuring it won't fall away any time soon.
This has led central bankers themselves to admit inflation will be a much bigger problem than even they thought it would be just a few short months ago.
For investors in mainstream assets, that poses a major challenge, as the market performance in January highlights.
The role of pink diamonds in 2022
While we are only one month into the year, pink diamonds have begun the year in much the same manner they ended 2021. Offering steady price growth that continues despite the volatility that is now occurring in more traditional investments.
The role that these assets can play in a portfolio will only become clearer in 2022, as more and more investors look for assets that can not only withstand interest rate hikes, but also increase in value during periods of high inflation, with rising consumer prices set to bug investors for some time to come.
The investment case for pink diamonds will only be strengthened by the fact that it has now been more than a year since the Argyle Diamond Mine closed.  Every day these assets get that bit scarcer, and that bit more desirable.
That can only help support higher prices.
At Australian Diamond Portfolio, we are excited to be fully back up and running, and we look forward to helping as many of you as we can this year to capitalise on the unique opportunity this asset class continues to offer.
As always, we hope you've enjoyed this week's edition of "In the Loupe" and we look forward to any questions or comments you may have.