It's been another busy week in financial markets and in the diamond world. This week we wanted to share three topics of interest with you, including a look at the proposed initial public offering (IPO) for WeWork, the shared office space company, as well as interesting economic news out of India. Combined, we think these elements bode well for coloured diamond prices in the years ahead.
Finally, we also look at two stories from the diamond world and why it's looking like Australia may not have any diamond mining industry at all by the end of 2020, with supply shutting down completely.
Indian Government to Print Money to pay for Tax Cuts
Whilst most market attention was focused on another interest rate cut by the United States Federal Reserve last week, and a short-term spike in US funding markets, we were more interested by an announcement that the Indian government will be cutting corporate tax rates, in a bid to stimulate economic growth.
Whilst we are generally speaking a big fan of lower taxes, we couldn't help but notice that the Indian government effectively plans to pay for this tax cut (in terms of replacing the income it will forego) via printed money from the Central Bank of India.
This headline from Bloomberg sums up the news.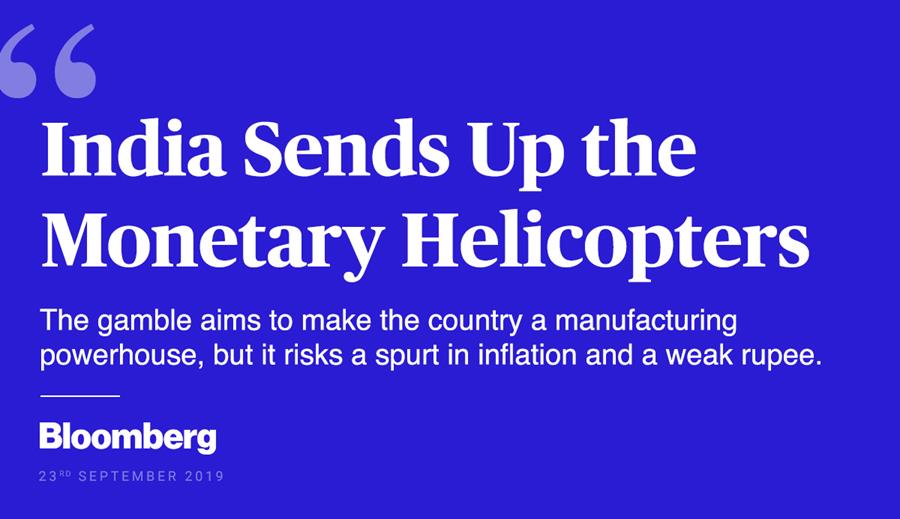 In our opinion this is just another step on the obscene monetary path that authorities have decided to take us down in the ten years since the Global Financial Crisis (GFC) ended.
The only likely outcome from this is the one alluded to in the subheading above, with weakness in the Indian currency, and higher inflation almost certain to arrive.
Weaker currencies and higher inflation are not positive outcomes. All other things being equal, they mean your standard of living is dropping because the purchasing power of your money is being eroded.
Given these kind of policies will likely be deployed in developed markets, including Australia where it looks like we'll get another rate cut next week, at some point in the future, the time to act is now. Astute investors should be moving toward rare hard assets, including pink diamonds.
Why WeWork Matters to Investors
Anyone who has been following financial market news for the last few weeks can't help but have noticed the drama surrounding the pending WeWork IPO.
Founded by talismanic CEO Adam Neumman, WeWork, which essentially provides shared office space to corporates, has never made a profit, and has burned through billions of dollars that it has raised over the last few years.
Undeterred by this, the company decided they wanted to list on the stock exchange and were hoping to do an initial public offering (IPO) with a company valuations of US $47 billion.
The market as a whole took one look at the deal and rejected it outright, with latest rumours suggesting the company would be lucky to be valued at USD $15 billion if it were to proceed with its listing.
This is relevant to investors because the WeWork story in many ways epitomises the risks that have been built into financial markets over the last decade.
Money printing and low interest rates have led to a proliferation of "tech-unicorns" (a unicorn is a company that has a valuation of over USD $1 billion) being listed even though most of them burn through cash, with little chance they'll ever turn a profit for investors.
In many ways it's reminiscent of the great NASDAQ stock boom and bust of the late 1990s, a chart of which we have included below. As you can see, it was a terrific party whilst the bull market was running, but it ended with a shocking hangover in the form of enormous losses for those investors who didn't get their money out on time.
WeWork is a sign that the current party too will end soon. When it does, you can be sure that investors will again shun fancy sounding technology stocks, and instead focus their investments on tangible assets, which have delivered strong long-term returns.
This will include pink diamonds.
Special Report Next Week: Closure of the Argyle Mine
We wanted to finish this weeks report with two articles dealing with coloured diamonds. The first is to do with the Cullinan mine in South Africa, which is the world's only steady source of blue coloured diamonds.
Whilst the mine has passed peak production, it can and does still produce the odd magical stones, with news this week that Petra Diamonds (the operator of mine) unearthed a 20.08 carat blue stone at the mine.
Stones like this will continue to attract interest from ultra-high net-worth individuals the world over, which benefits all coloured diamond investors, including clients of Australian Diamond Portfolio.
The second set of diamond related news was to do with the Merlin Diamond Mine, which is located in the Northern Territory. This week we came across news that the mine operator has been put into liquidation.
The Merlin Mine produces less than 1% of Australia's total diamond supply and was actually sold off by Rio Tinto a few years ago as it was too small to worry about.
Nevertheless, the news from this mine, combined with the pending closure of the Argyle Diamond Mine, which produces 99% of Australia's diamonds, and over 90% of the world's supply of pink diamonds means that Australia may not be mining diamonds at all by the end of 2020.
To that end, next week Australian Diamond Portfolio will be releasing a special report on the closure of the Argyle Diamond Mine. The report will look at the history of the mine, and why its pending closure only adds to the investment potential of this unique asset class.
We can't wait to share it with you.
As always, we hope you've enjoyed this weeks "In the Loupe", and we look forward to any feedback, comments or questions that you may have.