It's been just over two months since the Scott Morrison led Liberal party, in conjunction with their Coalition partners were returned to office.
Since the election, we've seen much change in financial markets, the most notable of which has been the two interest rate cuts by the Reserve Bank of Australia (RBA), who have now brought the cash rate down to just 1%, a new all-time low.
Equity markets have had a minor rally, up 3% since the election result, whilst the dollar has been fairly flat, still trading near USD $0.70.
But the biggest news has been in the property market, where a number of developments have helped stabilise prices, after over a year of price falls which saw Sydney and Melbourne prices lose over 10% of their value.
These developments have included
First Home Loan Deposit Scheme: The Federal Government will help up to 10,000 Australians a year buy their first home, by providing a government guarantee on 15% of their home loan
APRA changing interest rate buffers: In the past, APRA made the banks calculate whether or not they thought borrowers would be able to repay loans if the interest rate on their mortgage was 7%. Now APRA is letting the banks set their own interest rate buffers, which in theory means they'll able to lend more money to people.
On top of the cuts to interest rates, and the removal of uncertainty regarding changes to negative gearing and capital gains tax, these developments have helped stabilise property prices. It has also seen a notable uptick in auction clearance rates across the country, which you can see in the chart below.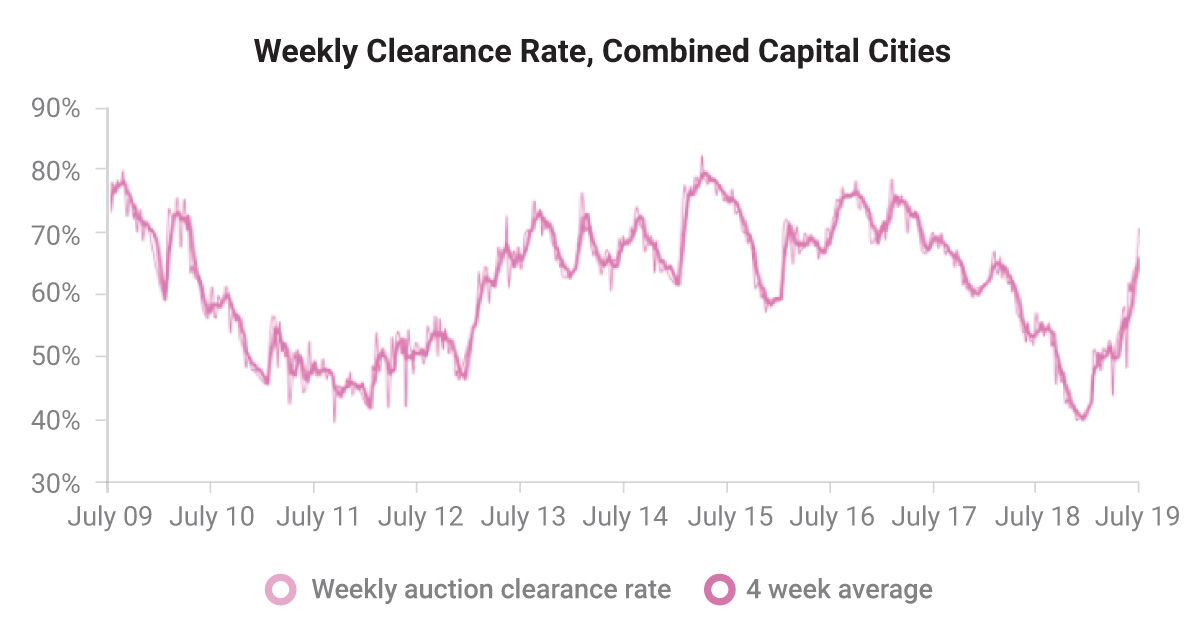 The stabilisation in prices and uptick in auction rates has led some commentators to forecast a return to boom times. We are not so sure at all, as we see a number of warning signs highlighting how uncertain the economy is, and how stretched households are.