It's been another busy week in financial markets and in the diamond world. This week we wanted to share three topics of interest with you, including a look at the proposed initial public offering (IPO) for WeWork, the shared office space company, as well as interesting economic news out of India. Combined, we think these elements bode well for coloured diamond prices in the years ahead.
Finally, we also look at two stories from the diamond world and why it's looking like Australia may not have any diamond mining industry at all by the end of 2020, with supply shutting down completely.
Indian Government to Print Money to pay for Tax Cuts
Whilst most market attention was focused on another interest rate cut by the United States Federal Reserve last week, and a short-term spike in US funding markets, we were more interested by an announcement that the Indian government will be cutting corporate tax rates, in a bid to stimulate economic growth.
Whilst we are generally speaking a big fan of lower taxes, we couldn't help but notice that the Indian government effectively plans to pay for this tax cut (in terms of replacing the income it will forego) via printed money from the Central Bank of India.
This headline from Bloomberg sums up the news.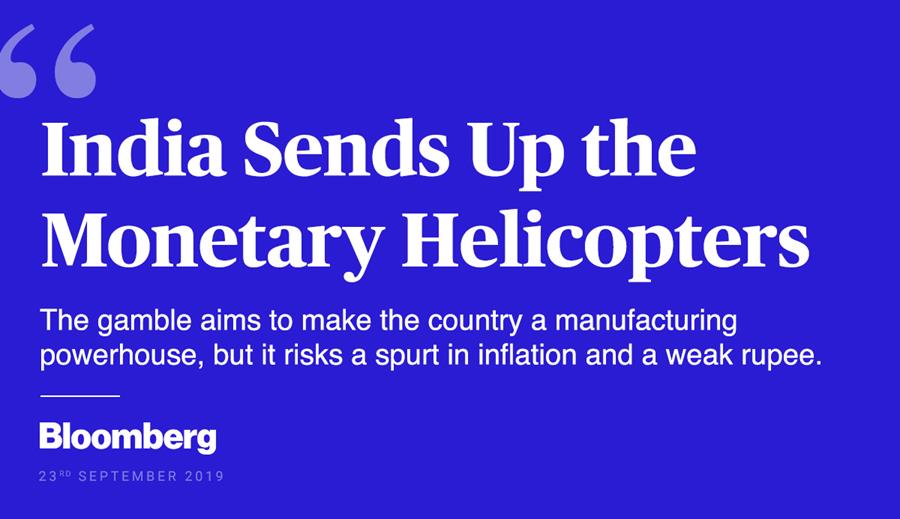 In our opinion this is just another step on the obscene monetary path that authorities have decided to take us down in the ten years since the Global Financial Crisis (GFC) ended.
The only likely outcome from this is the one alluded to in the subheading above, with weakness in the Indian currency, and higher inflation almost certain to arrive.