While the last couple of weeks have been dominated by news coverage of the now completed Federal election, the victory of Anthony Albanese and the Labor party is unlikely to have a major impact on investment markets, and how we as investors should be looking to protect and grow capital in the years ahead.
Indeed, when it comes to the economy, and to financial markets, the most important news of the past couple of weeks was not a multi-decade low in unemployment, but rather the sobering news that annual wage growth in Australia is currently sitting at just 2.4%.
That doesn't sound like a terrible result, but when you consider the fact that inflation is sitting at more than 5% per annum, it's clear that the majority of Australians are going backwards in real terms.
Note that this is all happening before there is any meaningful increase in interest rates, which still hover near all-time lows, though they are beginning to rise.
Going forward, below-inflation wage growth mean households will need to either cut back on their spending, and/or increase their debt levels, just to keep their standard of living intact.
These worrying trends aren't going to change just because of the Federal election.
They are also why investment markets have been so jittery this year, and why assets like pink diamonds are becoming more valuable to investors than ever, as we highlight below.
Pink diamond prices continue to climb
It's been almost exactly 18 months since the world-famous Argyle Diamond Mine, source of approximately 90% of the world's coloured diamond production, stopped operating.
As we long forecast, that supply cessation, combined with the strong investment fundamentals underpinning pink diamond demand, we're likely to see prices rise significantly.
That is exactly what is transpiring.
To best track this growth, we launched the Australian Diamond Portfolio Pink Diamond Index (ADPPDI), which tracks the performance, or price movements, of the main categories of pink diamonds, as well as the performance of pink diamonds as an asset class.
This week we are thrilled to release the results for the ADPPDI for Q1 2022, which showed that pink diamonds as a whole have increased by 6.6% on average, with the major categories of pink diamonds showing the following average growth:
Fancy pink: +6.2% in Q1 2022
Intense pink: +8.1% in Q1 2022
Vivid pink: +5.6% in Q1 2022
​​​​​The table below provides a further breakdown of the performance trends, looking at the change in prices based on category, as well as size.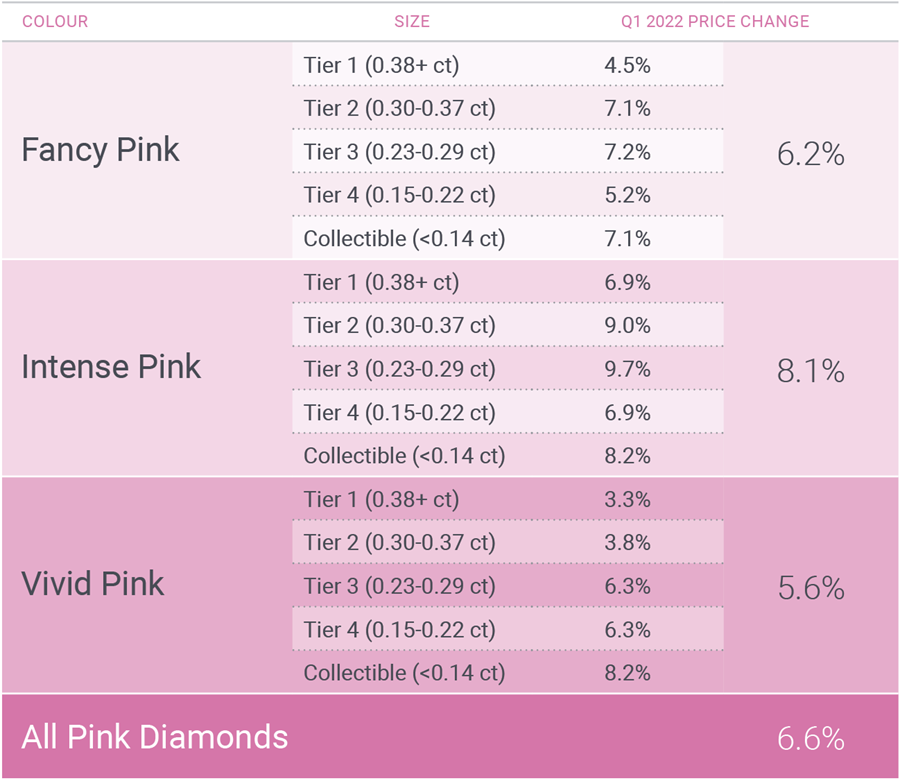 Interestingly, in Q1 2022 we tended to see a higher pace of price growth amongst the small and very small pink diamonds in each category.
This is evidence of the continued strong demand for these more affordable stones, and the fact that an ever-wider range of investors are looking to invest in this asset class, something we see every day at Australian Diamond Portfolio.
The strong performance displayed by pink diamonds continues the market leading returns they've generated not only since the closure of the Argyle Diamond Mine in late 2020, but indeed the better part of the last 20 years.
This relative performance is only becoming more important, as we highlight below.
Diamonds rock solid while other markets look shaky
The performance of pink diamonds in 2022 is impressive in its own right. But when we consider what's been happening in broader financial markets, and on the inflation front, the results are even more impressive.
This is evidenced through the chart below highlighting the performance of the main categories of pink diamonds we track through the ADPPDI (as well as the overall performance for pink diamonds as a whole), inflation over the last year to end March, and a range of other assets.
2022 Performance chart – Pink Diamonds vs. other asset classes
As you can see, pink diamonds, irrespective of which category, are basically the only asset growing in real terms, with equities falling while high-risk assets like cryptocurrencies have crashed. Even property and gold are struggling so far in 2022, while bonds (which aren't included in the chart), are having their worst start to the year in decades.
Given the continued strength we see on the demand side, and the obvious and more important irreversible supply limitations in the pink diamond market, we expect these trends to continue, with this unique asset class potentially set to outperform for some time to come.
As always, we hope you've enjoyed this week's edition of "In the Loupe" and we look forward to any questions or comments you may have.