It's hard to believe, but we are only several weeks away from Christmas 2021.
And with Australia largely (though not yet fully) beginning to reopen, we are sure many of our clients at Australian Diamond Portfolio are looking forward to long overdue family and friend catch ups, and a chance to recharge our batteries as we head into 2022.
In this week's market update, we take a look at some of the latest news on the inflation front, with higher inflation a key tailwind supporting higher demand for pink diamonds.
We also touch on the latest media articles discussing the pink diamond market, which are all helping to stimulate further interest from astute investors looking to diversify their portfolio, and profit from one of the fastest growing assets on the market.
Inflationary spikes to boost pink diamonds
As a truly rare hard asset, pink diamonds are one of the best potential hedges against rising inflation, with a history of not only holding, but increasing in value whenever the money we earn and save is losing its value.
And make no mistake, after two decades in which inflation rates were (mostly) quite low, and trending down, inflation is once again a front of mind issue, with annual price increases of more than 5% in the United States right now.
This can be seen in the below chart, which shows the year on year changes in the official inflation rate over the past sixty years.
Inflation Rate
This recent spike in inflation is the worst in 30 years, with consumers themselves now expecting prices to rise by almost 6% in the next year.
It's important to remember too that interest rates in the United States, and indeed across most of the developed world including Australia, are sitting at zero, or very close to.
That means in the last year, the value of the money in our bank accounts lost 5% of its purchasing power.
For most of this year, economists and mainstream economic forecasters have stated that the current spike in inflation is only temporary, and the inflation will soon return to a 2-3% range or lower, where it has been for most of the last two decades.
Ever so slowly though they are changing their tune – with many starting to admit that we may be in for a period of prolonged price rises, with the following CNN headline, and article capturing the current mood.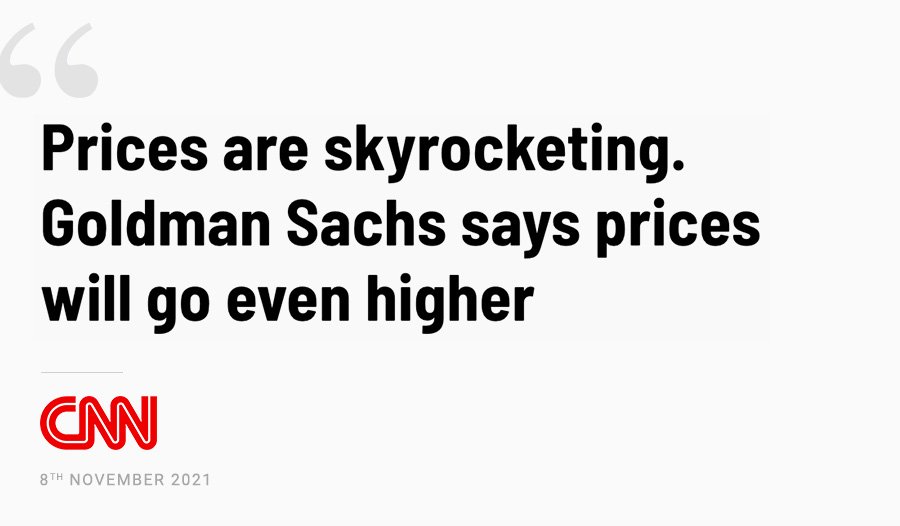 Recent research from Goldman Sachs, who are mentioned in the CNN headline, notes that "the inflation overshoot will likely get worse before it gets better", noting that rising rent prices, supply chain problems and soaring wages are likely to stick around for some time.
As the article notes, "That's bad news for Americans struggling with the high cost of living, as well as businesses squeezed by shortages and rising prices. Low-income families and those living on a fixed budget are hurt the most by rising prices on necessities like gas, food and clothing.
In the medium term, this inflationary problem will also cause problems for stock market investors, as higher inflation eats away at profit margins and causes investors to seek out safe haven assets.
Given this backdrop, we expect the very strong levels of investment demand that we have seen for pink diamonds in the last twelve months to strengthen from here, as investors gravitate to one of the few assets that will not only protect but grow wealth in such an environment.
The profit power of pink diamonds
There has been continued media coverage of the Argyle Pink Diamond Tender, and the release of the Australian Diamond Portfolio Pink Diamond Index (ADPPDI), with The Market Herald (headline below) running with a story highlighting the investment potential this asset class offers.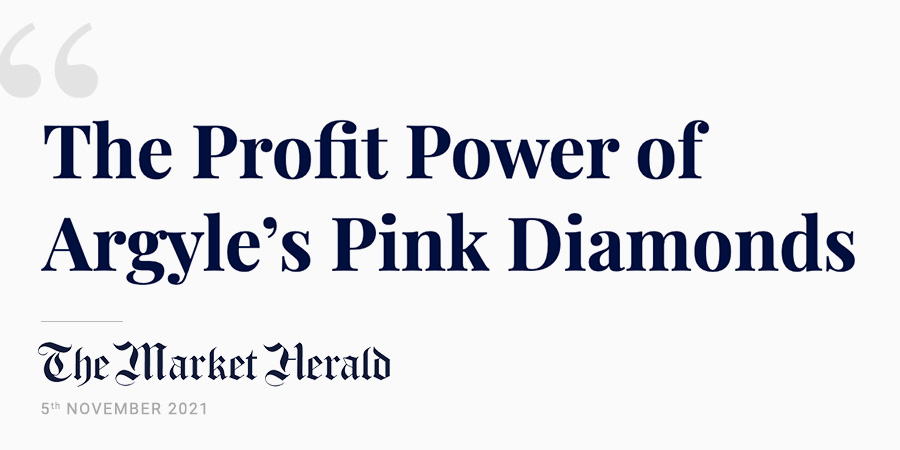 The article contains some great insights and quotes, including a reference to pink diamonds being "akin to artwork", with The Market Herald also including a range of liftouts from our recently released ADPPDI, including the one below.
Pink Diamond Index: 2020-21 Financial Year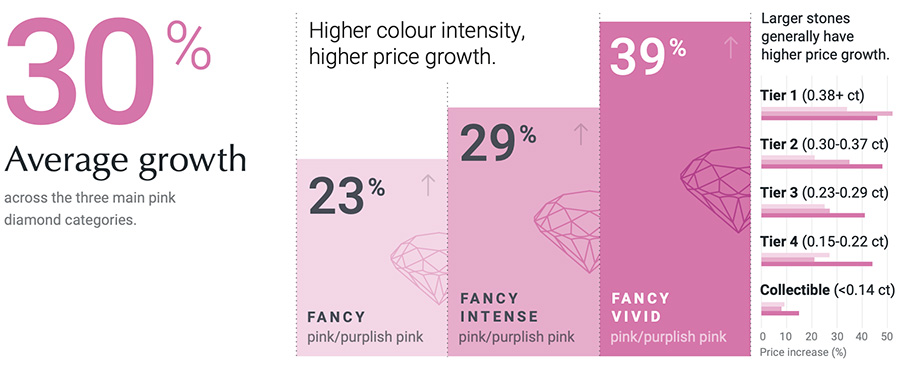 Beyond the market leading price returns, and the incredibly positive outlook for pink diamonds in the years ahead, we were pleased to see the article highlight some key factors we made, which make it clear how easy it is to incorporate pink diamonds into your portfolio, noting that;
The market is accessible to a wide range of investors, with a budget of $20,000 Australian dollars enough to get started on your pink diamond investment journey.
Storage of pink diamonds can be outsourced, with private vaults which can store pink diamonds (as well as other valuables) able to be accessed from less than $300 a year.
While the above bullet points are more practical in nature, they are nonetheless very important factors to highlight. This is because when it comes to investing, it's not just about the performance figures an asset could theoretically generate for you.
It's also about how easy it is to buy or sell, how much money you need to get into the market, whether or not the asset is tangible or not etc.
On these metrics, pink diamonds rate very highly, with their true rarity, and extreme beauty only reinforcing why they can make such a great and unique investment opportunity today.
To that end, if there is anything that we can do to help you on your pink diamond investment journey, from making your first purchase to adding to your portfolio, please don't hesitate to get in touch.
We'd love to assist!
As always, we hope you've enjoyed this week's edition of "In the Loupe" and look forward to any questions or comments you may have.