It's been a big week in the pink diamond world, with exciting news that Rio Tinto, the owner of the now closed Argyle Mine, has launched an iconic new program as part of its continued support for, and promotion of pink diamonds from Argyle.
Suffice to say, that it has us feeling very encouraged that the recent strength we've seen in pink diamond prices is not an anomaly, and that the market should continue to see meaningful price increases.
We also look at another illustration of how hard investors in traditional markets are finding it in 2022, which reinforces why the demand for hard assets, including pink diamonds, should continue to rise as investors look to diversify their portfolios.
Australian Pink Diamonds live on!
It's been almost two years since the Argyle mine, famous for its pink diamonds, closed.
Since then, prices for these unique hard assets have soared, continuing a strong period of performance that dates back almost 20 years, with pink diamonds outperforming most assets since the turn of the century.
At Australian Diamond Portfolio, we've long stated that while the closure of the Argyle mine was set to be a bullish catalyst for the market (and this has proven to be correct), the market for pink diamonds would continue to thrive long after the mine's closure, with a strong secondary market emerging in its place.
This week we've seen strong evidence of the enduring appeal of Australian pink diamonds, with an announcement on Friday June 3 by Rio Tinto (who own and operated the Argyle mine) that it had launched an 'Icon Partner' program.
This has been launched as part of Rio Tinto's strategy for the future development of the 'Argyle Pink Diamonds' brand.
As per the Rio Tinto press release, "the Icon Partner program is part of a strategy designed to protect the provenance of Argyle Pink Diamonds." Other initiatives being pursued by Rio Tinto include:
"a certification service," 
"a concierge trading platform for certified Argyle Pink Diamonds," 
"a Beyond Rare™ Tender platform for special sales events and a number of strategic collections and collaborations involving existing inventory and the secondary market."
The Rio Tinto press release goes on to note that; "The secondary market for Argyle Pink Diamonds comprises almost forty years of rare polished pink diamonds, together with heirloom pieces of jewellery, collectibles and objects. This market requires careful management to preserve the precious provenance of Argyle Pink Diamonds and continue the legacy of careful custody that underscores its rarity." 
In making the announcement, Rio Tinto Minerals Chief Executive Sinead Kaufman noted (bold underlined emphasis is ours); "This is the start of a new chapter for Argyle Pink Diamonds, to ensure they maintain their value and investment potential as a finite, unrepeatable natural resource and achieve the status of outstanding heritage diamonds." 
From our perspective, the team at Australian Diamond Portfolio are highly encouraged by this news and think all existing and potential pink diamond investors should be as well.
After all, if Australian pink diamonds were just a regular commodity, and if the Argyle mine was just like any other mine, then there'd be no value in actively promoting its history, or the enduring investment appeal of the bounty it produced.
Pink diamonds are special though!
The fact that Rio Tinto themselves are going to such effort highlights very clearly the opportunity that they see in the pink diamond market going forward, with this announcement reinforcing our view that this asset class remains the place to be going forward.
Diversification demand to drive pink diamonds
The investment merits of Australian pink diamonds, which are evidenced through Rio Tinto's recent announcements, are only made more compelling as a result of the financial market and economic environment investors face today.
For most of the past 50 years, whenever investors got worried about risks in the economy, they could protect and still grow wealth using traditional investments like bonds, or plain old money in the bank.
That's all changed though now, due to surging inflation rates which are seeing cash and bonds, as well as share markets, go backwards this year.
This is evidenced in the table below, which shows calendar year returns for the US stock market in the years it fell, as well as the performance of bonds in those same years.
S&P 500 Down Years (1976-2022)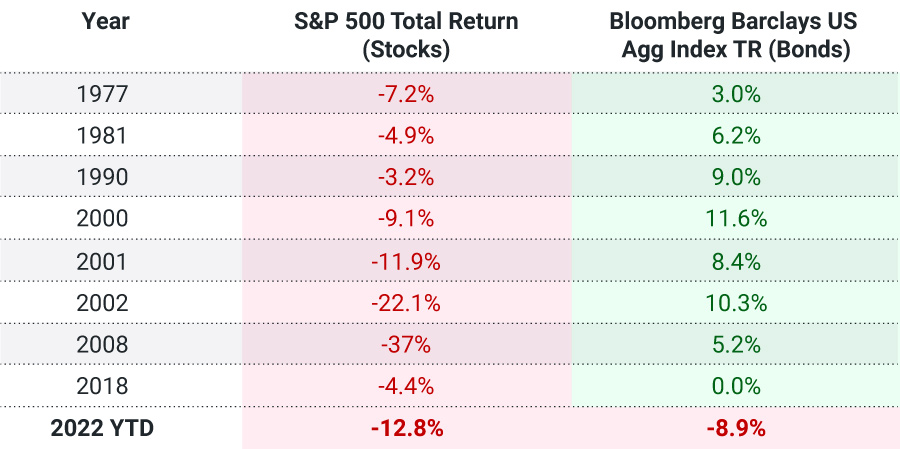 Note how in every year that the stock market fell, bonds went up, protecting investor portfolios. This year though, not only are stocks down, but the bond market is down too.
This is a problem affecting investors not only in the United States, but in Europe, where inflation is also above 8%, and indeed Australia, with property prices beginning to fall, and inflation set to rise considerably in the latter half of this year.
This backdrop reinforces why astute investors are today allocating part of their portfolio to hard assets, with pink diamonds offering a unique set of supply and demand characteristics that could see them continue to outperform in the years ahead.
As always, we hope you've enjoyed this week's edition of "In the Loupe" and we look forward to any questions or comments you may have.