Anna Cisecki | Executive Director
Anna is an Accredited Diamond Expert (C.I.G.) with nearly 15 years experience in the diamond and precious metals industry. As the former Laboratory Director of the internationally recognised D.C.L.A. (Diamond Certification Laboratory of Australia) from 2006 to 2013, her experience was focused on consumer and industry education, and bringing greater transparency to diamond investment.
Her background also includes gemological work with the E.G.L. USA Group and consulting roles for both diamond and precious metals investors such as the DCLA Diamond Exchange and First Gold, Australia's first investor accumulation plan for precious metals.  Anna holds an AGSM Executive M.B.A. from the Australian School of Business and is a member of the DDCA (Diamond Dealers' Club of Australia) and the Canadian Institute of Gemmology.
She is an ardent diamond connoisseur with a passion for educating clients and industry professionals alike about fancy coloured diamonds, and arming them with the information and tools they need to invest in diamonds the smart way.
David Burger | Principal Consultant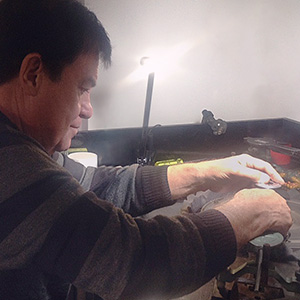 David is a globally acclaimed Master Diamond Polisher, with experience that is second to none in the diamond industry. Having spent 52 years polishing diamonds in South Africa and Australia, his specific area of expertise is with pink and red diamond cuts, in particular the large and important Tender diamonds.
Over the course of his career, David has polished a large number of tender diamonds produced by the Argyle mine, master crafting the rough into the works of art they eventually become, accumulating thousands of hours of experience in polishing along the way.
In addition to his experience at the diamond polishing wheel, David has a well-known passion for promoting the diamond industry, and provides unique insider knowledge on the investment opportunities it offers.
Investment Diamond Specialists
Australian Diamond Portfolio houses a boutique team of specialist diamond investment advisors, on hand to assist investors of any level through every step of the diamond acquisition process.
We pride ourselves on providing the best service when it comes to delivering our clients the most sought after opportunities in the rare coloured diamond market.
In addition, our Investor Education Centre provides you with the opportunity to extend your diamond investment knowledge while at the same time gaining a better understanding of the market as a whole.