The Pink Star diamond has become the world's most expensive gemstone, selling at auction today for an incredible US$71.2 million (A$94.3 million) including buyer's premium.
At 59.60 carats, The Pink Star is the largest internally flawless, fancy vivid pink diamond ever graded by the Gemological Institute of America. It's more than twice the size of the 24.78-carat Graff Pink, which set the previous record price for a pink diamond when it sold for $46.2 million in 2010.
It breaks the record previously held by the Oppenheimer Blue diamond, which sold for $57.5 million at Christie's in Geneva last May. It has also become the highest price item ever sold at auction in Asia.
"At a time of unprecedented demand for the finest in coloured diamonds, I am delighted to be bringing this magnificent stone back to the market," said David Bennett, chairman of Sotheby's jewellery division. "The extraordinary size of this 59.60-carat diamond, paired with its richness of colour, surpasses any known pink diamond recorded in history."
The Pink Star surpassed the Graff Pink in November 2013 when Sotheby's sold it to diamond cutter Isaac Wolf for a record $83.2 million. However, the stone was returned to Sotheby's after Wolf and his investors defaulted on the payment.
Sotheby's entered into a partnership agreement in June last year with Diacore and Mellen Diamonds, both New York-based diamond manufacturers, for shared ownership of the diamond. The Pink Star has been held in Sotheby's inventory at a value of $72 million.
After bidding from three clients, the diamond was sold to jewellery retailer Chow Tai Fook, who was on the telephone to Sotheby's Asia CEO Kevin Ching, for a hammer price of 490 million Hong Kong dollars (US$63 million). The sale total was 553 million Hong Kong dollars once the buyer's premium was added.
The Pink Star was cut from a 132.5-carat rough diamond mined by De Beers in Africa in 1999. It took two years of meticulous cutting and polishing to hone it into its current oval shape.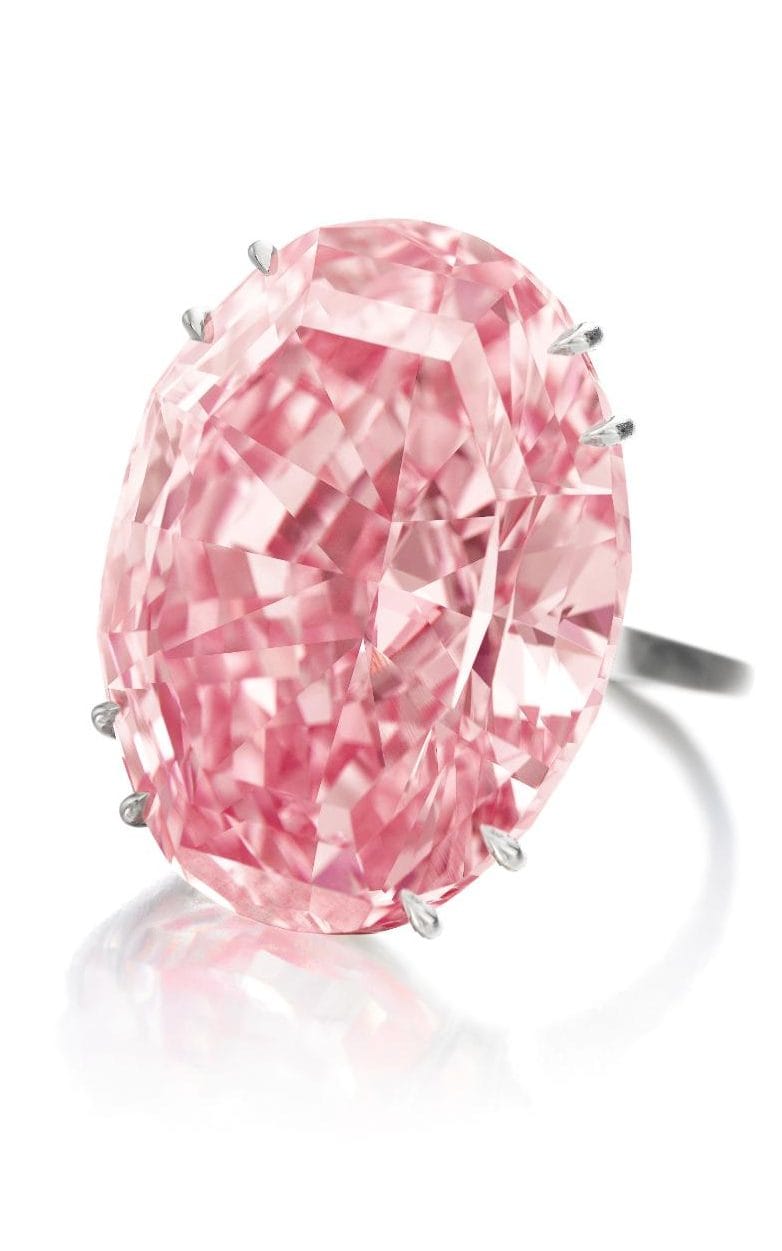 The pink diamond is also rated as Internally Flawless, meaning it has no internal inclusions, and is a Type IIa stone, the coveted classification given to less than two per cent of all gem-quality diamonds, which signifies chemical purity.
The 59.60-carat Pink Star is worth a staggering $1.2 million per carat. However that isn't enough to break the price-per-carat record currently held by the Blue Moon of Josephine, a 12.03-carat Fancy Vivid blue diamond which sold at Sotheby's Geneva in November 2015 for $48 million: over $4 million per carat.
Sotheby's also holds the current world auction record for the most valuable Fancy Vivid pink diamond – the 15.38-carat pear-shaped Unique Pink diamond, which sold for $31.5 million in Geneva in May 2016; and the world records for the most valuable yellow diamond, ruby and white diamond – the 118.28-carat oval D-Flawless diamond which sold for £20 million at Sotheby's Hong Kong in October 2013.